vorschlag:hammer – I DO NOT BELIEVE IN STYLES ANYMORE
To me a motion picture is motion. You got to keep the dialogue down. (Bruce Lee)
vorschlag:hammer train themselves in fighting. They fight with their bodies. They show fight and actually fight. They use violence and let violence be done to them. They perform fake stunts and really fight, they practice and apply choreographies of traditional martial arts. In doing so, they are inspired by the great martial artist Bruce Lee, his texts and films and his pop cultural heritage.
A movement theatre emerges from the clash of their own and foreign bodies as a means of expressing violence, gender, identity and the individual. How can Lee's suggestions be applied to the white untrained bodies of vorschlag:hammer? And how can Lee's body concepts and the violence scenarios in his films be analysed and discussed? How do the real fight and its representation differ in sports, film and on stage? What remains when power is physically enforced or legitimized and what does the exercise of physical power mean for a society?
The result is a work that begins by disciplining our bodies, placing them in the context of Bruce Lee's work, reflecting on the figure and readability of Bruce Lee and debating the bodies in contemporary society.
A production by vorschlag:hammer in co-production with Ballhaus Ost, Ringlokschuppen Ruhr and ROXY Birsfelden.
Funded by Fonds Darstellende Künste e.V., the Ministry for Family, Children, Youth, Culture and Sports of the State of North Rhine-Westphalia, Dance & Theater Committee BS/BL
TRAILER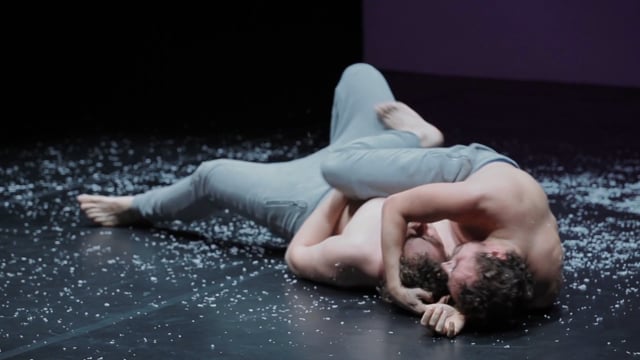 SHOWS
ROXY Birsfelden
Wednesday, 13. December 2017, 20:00
Thursday, 14. December 2017, 20:00
Friday, 15. December 2017, 20:00
TEAM
created and performed by
Gesine Hohmann, Stephan Stock, Kristofer Gudmundsson, Ralph Tristan Engelmann
production
Bernhard la Dous