Marcel Schwald / Chris Leuenberger – EF_FEMININITY
When they were kids Marcel Schwald and Chris Leuenberger wanted to be girls.
Up to this day they are still fascinated by the ways and wiles attributed to the female gender – especially when these behaviors are practiced as a means to self-empowerment and as a political statement.
In India, where gender identities beyond the binary, have a far-reaching history, they got in touch with the radio journalist Shilok Mukkati, the performer Living Smile Vidya and the choreographer Diya Naidu – all activists fighting for the recognition of their own femininities.
In EF_FEMININITY they join forces to explore and question femininity, hyper-femininity and effeminacy.
After their production "Kreutzberg" (2015), dealing among other things with homosexuality in World War II, choreographer Chris Leuenberger and author / theatre director Marcel Schwald once again interweave elements of journalism and choreography for a documentary dance performance.
A production by Chris Leuenberger and Marcel Schwald in co-production with Dampfzentrale Bern and projet Danse et dramaturgie.
Funded by Swiss Arts Council Pro Helvetia, SSA – Société Suisse des Auteurs, Kultur Stadt Bern, Amt für Kultur Kanton Bern, Fachausschuss Tanz & Theater BS/BL, Migros Kulturprozent and further sponsors.
TRAILER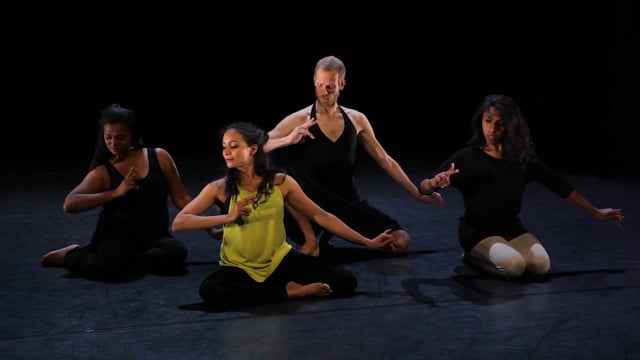 SHOWS
Thursday, 18. October 2018, 20:00
Friday, 19. October 2018, 20:00
Saturday, 20. October 2018, 20:00
Sunday, 21. October 2018, 19:00
Monday, 22. October 2018, 20:00
Monday, 15. October 2018, 20:00
Tuesday, 16. October 2018, 20:00
Sunday, 3. June 2018, 17:00
Dampfzentrale Bern
Thursday, 5. April 2018, 20:00 Premiere
Saturday, 7. April 2018, 20:00
TEAM
artistic direction
Marcel Schwald, Chris Leuenberger
choreography & performance
Shilok Mukkati, Diya Naidu, Living Smile Vidya, Chris Leuenberger
outside eye
Joshua Muyiwa, Kirtana Kumar
light design & -technics
Thomas Kohler
production (India)
Sandbox Collective
production (Switzerland)
Sabine Jud
diffusion
Franziska Schmidt