Marcel Schwald – THE MAKING OF AMERICANS VON GERTRUDE STEIN
Marcel Schwald has adapted Gertrude Stein's monumental family saga «The Making of Americans» within the context of Europe as a continent of emigrants, whilst bringing Stein's situational humour to the fore.
A production by Paraform in co-production with Theater Winkelwiese Zürich, Kaserne Basel, Kleintheater Luzern and Tojo Theater Reitschule Bern.
Thanks to Fachausschuss Theater & Tanz BS/BL, Stadt Zürich – Kultur, Kanton Zürich – Fachstelle Kultur, Stadt Bern – Abteilung Kulturelles, Schweizer Kulturstiftung Pro Helvetia, Migros Kulturprozent, GGG Basel – Die Gesellschaft für das Gute und Gemeinnützige, Stiftung Edith Maryon, Schweizerische Interpretenstiftung and all further supporters.
TRAILER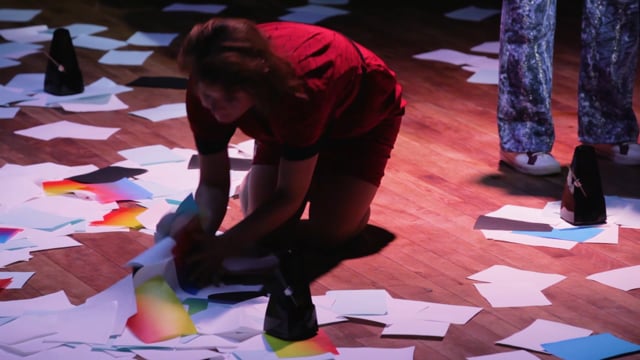 SHOWS
Theaterdiscounter Berlin
Thursday, 1. December 2016, 20:00
Saturday, 3. December 2016, 20:00
Sunday, 4. December 2016, 20:00
Tojo Theater - Reitschule Bern
Wednesday, 14. December 2016, 20:30
Friday, 16. December 2016, 20:30
Saturday, 17. December 2016, 20:30
Kaserne Basel
Tuesday, 10. January 2017, 20:00
Wednesday, 11. January 2017, 20:00
Friday, 13. January 2017, 20:00
Saturday, 14. January 2017, 20:00
Sunday, 15. January 2017, 19:00
Kleintheater Luzern
Thursday, 9. March 2017, 20:00
Saturday, 11. March 2017, 20:00
Sunday, 12. March 2017, 20:00
Theater Winkelwiese Zürich
Saturday, 22. October 2016, 20:00 Premiere
Thursday, 27. October 2016, 20:00
Friday, 28. October 2016, 20:00
Saturday, 29. October 2016, 20:00
Wednesday, 2. November 2016, 20:00
Thursday, 3. November 2016, 20:00
Friday, 4. November 2016, 20:00
Saturday, 5. November 2016, 20:00
TEAM
performance
Susanne Abelein, Julia Schmidt
prologue
Ariane Andereggen
guest Berlin
Sylvia Schwarz
set design
Elisabeth Fritsch
sound design
Matthias Meppelink
light design & technical direction
Thomas Kohler
production
Franziska Schmidt