Kihako Narisawa – HAVE I EVER SPOKEN PROPERLY?
The basis of concept for this research originally derive from my own interest and experience in communication and relation – as Japanese person in Europe, as a dancer, as a woman – from the perspective of a non European, non-native speaker, communication has been a continuous confrontation and adaptation to find better translation and interpretation to express myself in certain circumstances.
In this project, I focus on the concept of proxemics, gesture and behaviour which occur in a physical space between two people. People often make expectations and modify their surrounding needs, those adaptation and rearrangement include cultural and familial background, experience and knowledge of learned upon personal history and cultural influences, according to the source of inspiration from an American anthropologist Edward T. Hall, who extensively exposes cross cultural communication and anthropology of space.
I apply this concept to investigate how cultural systems push me to choose between verbal and non-verbal communication and how cultural codes and norms deconstruct our use of space among human beings.
Have I ever spoken properly? – reflects the doubt and uncertainly behind communication, and the desire to resolve problem of translation under the pressure of cultural and linguistic differences. How can we address the disparity between idea and word, language and movement?
TRAILER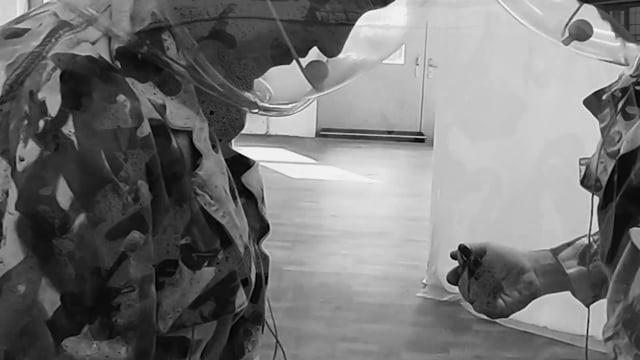 SHOWS
Sunday, 25. October 2020, 18:00
Saturday, 24. October 2020, 20:00 Premiere
TEAM
Concept, choreography, performance
Kihako Narisawa
Performance, artistic collaboration
Vittorio Bertolli
Dramaturgy
Miriam Coretta Schulte
Sound Design
Bastian Kämmer, Moritz Kretzschmar
Styling
Jacqueline Loekito
Production management
Regula Schelling, produktionsDOCK