vorschlag:hammer – TWIN SPEAKS – telegram edition
A body is found on the banks of the Birs. The search for the murderer proves difficult – no one saw anything but everyone heard something and while everyone seems to have a motive, they also all have  an alibi.  An investigator from the big city is tasked with  finding the perpetrator among the residents of Birsfelden. Or does he or she come from outside? Or is he or she an even it maybe? As expected, the town's  community is insular, wracked by conspiracies l and increasingly divided. vorschlag:hammer, developed a crime thriller freely borrowing from  David Lynch's iconic series, Twin Peaks but set  in Birsfelden and developed with the participation of Birsfeldens citizens. They question the potentials and pitfalls  of the small town, mix cinematic strategies with performatives flair, inviting you to binge watch as they leap  from cliffhanger to cliffhanger.
During the Corona break, vorschlag:hammer moves the production to a telegram chat. While the cinematic level between television film, docufiction and mystery can now be easily watched on the screens at home, the stage action shifts to chats, voice messages, stickers and videos, which are performed live in front of an audience.
Supported by Fonds Doppelpass of the Kulturstiftung des Bundes and Fachausschuss Tanz und Theater bs/bl.
TRAILER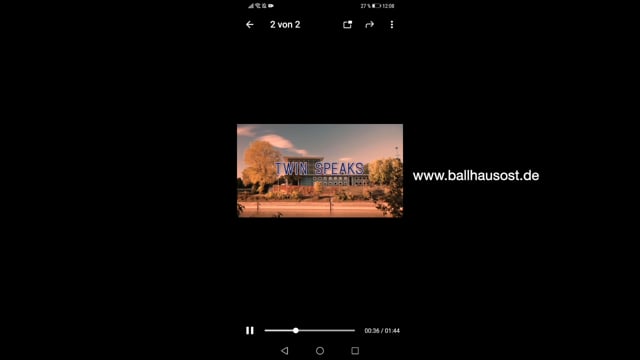 SHOWS
Wednesday, 1. July 2020, 20:00
On TELEGRAM Messenger
Tuesday, 30. June 2020, 20:00
On TELEGRAM Messenger
Saturday, 20. June 2020, 20:00
Im TELEGRAM Messenger
Friday, 19. June 2020, 20:00
Im TELEGRAM Messenger
Sunday, 24. May 2020, 18:00
on Telegram Messenger
Saturday, 23. May 2020, 18:00
on Telegram messenger
Friday, 17. April 2020, 20:00
on Telegram messenger
Thursday, 16. April 2020, 20:00
on Telegram messenger
Tuesday, 19. November 2019, 20:00
Monday, 18. November 2019, 20:00
Sunday, 17. November 2019, 20:00
Saturday, 16. November 2019, 20:00
Thursday, 14. November 2019, 20:00 Premiere
TEAM
Concept and performance
Gesine Hohmann, Kristofer Gudmundsson, Bernhard la Dous, Stephan Stock
Video design
Paula Reissig