vorschlag:hammer – KÖRPERATLAS – EXPEDITION IN DIE EINGEWEIDE
What do hormones look like? What does digestion sound like as music? How does a cancer communicate? And why can the appendix no longer see? For "Körperatlas", vorschlag:hammer and the ensemble go on a research expedition into the human body. For this purpose they travel to the inside of the human body and report from there: From the perspective of the heart, tongue, pupil and intestine they observe processes of breathing and digestion, of growth and development, but also of decay and illness. The spectacular microscopic processes between "norm" and deviation, which take place in us every day largely unnoticed, are examined and enlarged for the audience on stage. But how politically is the concept of the body itself organized? The way the body, its structure and its norm is spoken about is always an expression of the prevailing social circumstances in which people's bodies are integrated. So what do our bodies tell us about the society we live in? The production is developed as a play with the ensemble on the basis of extensive research with body experts. A colourful, polyphonic spectacle of body phenomena is revealed, a "Once upon a time life" as post-dramatic image theatre.
A production by vorschlag:hammer in co-production with Schlosstheater Moers and ROXY Birsfelden. Supported by the Doppelpass fund of the Federal Cultural Foundation.
TRAILER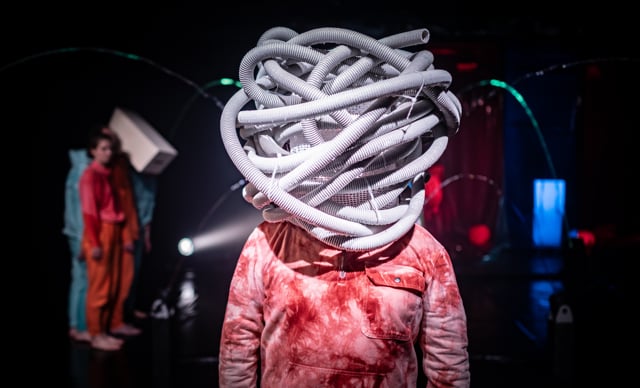 SHOWS
Tuesday, 7. May 2019, 20:00
Saturday, 19. January 2019, 20:00
Sunday, 20. January 2019, 16:00
Friday, 2. November 2018, 19:30 Premiere
Saturday, 3. November 2018, 19:30
Thursday, 29. November 2018, 19:30
Saturday, 1. December 2018, 19:30
Saturday, 15. December 2018, 19:30
Sunday, 16. December 2018, 18:00
Wednesday, 8. May 2019, 20:00
Friday, 17. May 2019, 19:30
TEAM
Created and performed by
Patrick Dollas, Bernhard la Dous, Lena Entezami, Kristofer Gudmundsson, Matthias Hesse, Gesine Hohmann, Stephan Stock
costumes
Mascha Mihoa Bischoff