vorschlag:hammer – DIE AUSGRABUNG
"Authenticity is not about factuality or reality. It is about authority. Objects have no authority; people do."  Crew, Spencer R./Sims, James E. (1991)
Archaeology is a science that uses scientific and humanistic methods to explore the variety of cultural practices of the past. The achievements of this science enjoy enormous popularity: how to tell about the past by means of real things is a fascination that is satisfied in ever new special exhibitions in museums as well as in countless historical documentaries on television. In this way we are credibly shown that isolated finds can be used to draw conclusions about the forms of coexistence that people cultivated and how they formed a society that we can understand according to our own standards. Each find, each classification and each exhibition works from the past into the present, projects into the future and can be used powerfully: The real thing is difficult to disprove, but it can be interpreted in different ways. We ask ourselves how history is constructed on the basis of artifacts, who is looking for these artifacts and by whom they are interpreted – also as an instrument of political power? What influence do they have on popular representations of history and how do these representations of history shape our perception of the world?
A production of vorschlag:hammer in co-production with Ringlokschuppen Ruhr and ROXY Birsfelden, and in cooperation with Ballhaus Ost.
With the kind support of the Ministry of Culture and Science of the State of North Rhine-Westphalia, the Fonds Darstellende Künste and the Regionalverband Ruhr.
TRAILER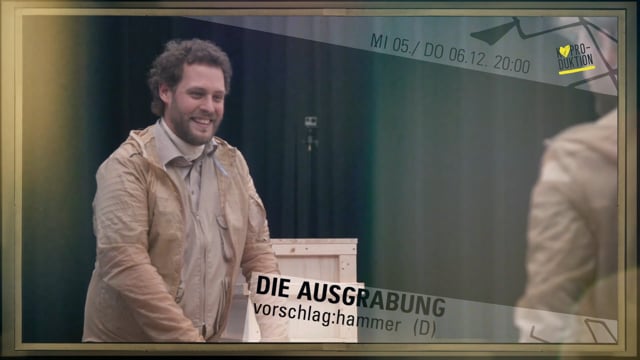 SHOWS
Friday, 25. June 2021, 20:30
Thursday, 24. June 2021, 20:30
Saturday, 19. June 2021, 20:30
Friday, 18. June 2021, 20:30
Thursday, 17. June 2021, 20:30
Saturday, 25. May 2019, 20:00
Friday, 24. May 2019, 20:00
Wednesday, 22. May 2019, 20:00
Thursday, 6. December 2018, 20:00
Wednesday, 5. December 2018, 20:00
Thursday, 29. March 2018, 20:00
Wednesday, 28. March 2018, 20:00
Saturday, 24. March 2018, 20:00
Friday, 23. March 2018, 20:00 Premiere
TEAM
created and performed by
Kristofer Gudmundsson, Gesine Hohmann, Stephan Stock
Costumes
Mascha Mihoa Bischoff
production
Bernhard la Dous