Beatrice Fleischlin – RADICAL HOPE NO 2 / CREATURES
The evening revolves around the easily shaken certainty that a form of existence in which there is no clear right or wrong, in which everything feels like a temporary solution, is a great happiness. Here one can meet each other, in this uncertainty, as human beings. And that can be great life. You just have to bear it, the not knowing and the vulnerability, your own and that of others.
RADICAL HOPE no2 / CREATURES is quiet and glaring, broken and full of high spirits. An evening about compassion and love – conditions that are radically necessary in a shattered world, as they provoke acts of humanity.
RADICAL HOPE no2 / CREATURES shows a place where strangely disheveled individuals live. A nest seems to be their dwelling place. The figures cannot be classified as man or woman, young or old, from here or elsewhere. Thus they elude the categories. They override the system of order that everyone adopts in the course of a lifetime.
Is this a pre-civilised flat share? An end-time place? A futuristic dance of death? Slowly, very slowly the daily routine of this micro-society unfolds. Each individual pursues an occupation, obviously they live together. They eat and play, they have worries and joys. They care for each other. They live well together. No sooner have we begun to understand their form of existence as lovable than something new appears, something that ticks differently. What happens now is still to be found. We are working on a mechanism that we would like to see grow into reality beyond the evening. Then it gets dark. Whether it is night or the end, that remains open.
RADICAL HOPE no2 / CREATURES wants to provoke the audience to reflect on their own relationship to vulnerability and demarcation as well as to the vulnerable and the excluded.
TRAILER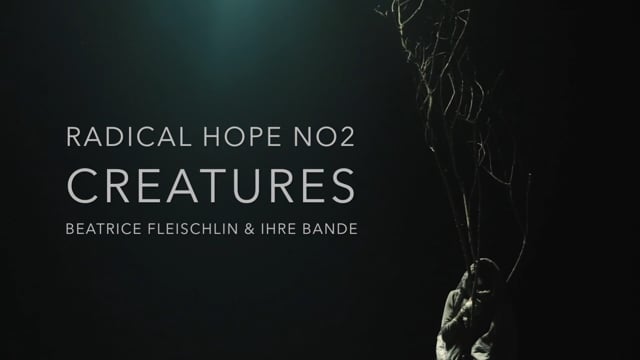 SHOWS
Südpol Luzern
Wednesday, 21. February 2018, 20:00 Premiere
Thursday, 22. February 2018, 20:00
Friday, 23. February 2018, 20:00
Saturday, 22. September 2018, 20:00
Sunday, 23. September 2018, 18:00
TEAM
With and by
I-Fen Lin, Thora Hohberg, Urbain Guiguemdé, Remo Helfenstein, Nico de Rooij, Beatrice Fleischlin
Artistic direction
Beatrice Fleischlin
Light design & technical direction
Nico de Rooij
dramaturgical consultation
Mona de Weerdt
Outside Eye
Martin Schick, Anja Meser
production
Larissa Bizer, Elena Conradt