Patricia Nocon – DIE POLNISCHSTUNDE
40 years after emigrating from Poland, performer Patricia Nocon begins to work on her family history. In interviews in Germany and Poland, she brings to light the events of the war and post-war years and thus fills gaps in the family memory. In doing so, she encounters a variety of coping and displacement strategies, including oneself. There is simply no language to grasp the experienced. In order to make the repressed visible and to name the unspoken, she decides to learn Polish: the language that has been banned from her family and yet is part of her identity.
Together with the Polish-Swiss performer Ewelina Guzik-Zubler, she attempt to draw closer to the stories, to untangle them and find a language to speak for them.
Where spoken language is not enough, where words become impossible or even embarrassing, movements and gestures offer ways out of speechlessness. Sometimes only silence will help to speak against the power of the superiority of the past.
TRAILER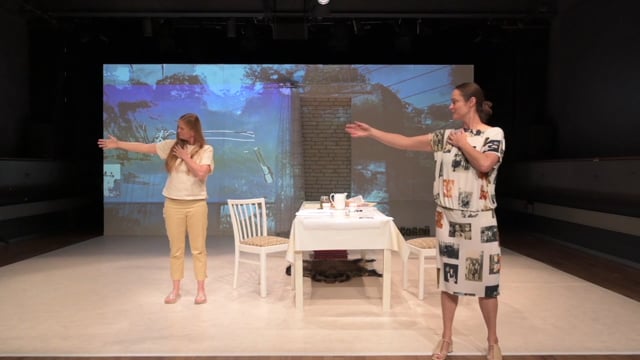 SHOWS
Saturday, 8. February 2020,
Friday, 7. February 2020,
Wednesday, 5. February 2020,
Tuesday, 15. December 2020, 20:00
Monday, 14. December 2020, 20:00
Friday, 13. December 2019, 20:00
Monday, 18. November 2019, 19:00
Sunday, 17. November 2019, 19:00
Monday, 16. November 2020, 19:00 Premiere
TEAM
Concept, artistic direction
Patricia Nocon
PERFORMANCE
Ewelina Guzik-Zubler
Text, artistic direction
Sibylle Heiniger
Technical director
Jens Burde
VIDEOANIMATION
Marlon Candeloro
Conceptional assistance, surtitles
Kathrin Borer
Costume Design
Ernestyna Orlowska
assistant to the director
Maurice Freiburghaus
Production Management
Eleni Foskett-Prelorentzos, Regula Schelling