Theater der Peinlichkeit – MOBBING CLOWNS
Hate is everywhere – in amateur football, in Facebook comments, in the White House. We are faced with an increased willingness to devalue people via blatant contempt or through physical violence. But is this really a new trend, or is it that hatred is simply more visible  these days, and we are thus forced to confront it more and more often than we'd like to?
And what does that mean for young people? We – Lea Whitcher, Stephan Stock and Wanja van Suntum – are developing a play that transforms the experiences and thoughts of young people into a grotesque, distorted stage language which we then  play back to our young subjects.
We assume that young people have a lot to say about hatred, mobbing and violence. And yet they are rarely listened to. research, we collaborate with two ninth-grade Zurich school classes. Together with them, we discuss the state of their world, the different relationships they have and how they are threatened by violence. We see the young people here as experts with whom we conduct an intergenerational dialogue at eye level. The finished play is aimed at young people aged 13 and over and will be performed in classrooms and theatres. The result is a hybrid project that brings theatre to schools and the world of young people to theatre.
For the staging of these texts, the figure of the clown serves as an aesthetic and content-related approach. The clown, as an archetypal figure of world theatre, is both a  mobber and the mobbed at the same time, a horror clown and a popular figure, stupid and wise. The three performers Stock, van Suntum and Whitcher activate  their personal clown to approach the complex topic of violence ambivalently. They will be supported by production manager Elena Conradt and theatre pedagogue Sarah Verny. We want to search for theatrical means to counter hatred; new creative forms that tell of our entanglement in violence and yet try to find solace in what may be our last accessible comfort: humour.
Co-production Fabriktheater Rote Fabrik Zurich. Supported by the City of Zurich, Canton of Zurich, Schweizerische Interpretenstiftung SIS, Georg und Bertha Schwyzer-Winiker-Stiftung, Ernst Göhner Stiftung and Dr. Adolf Streuli Stiftung.
TRAILER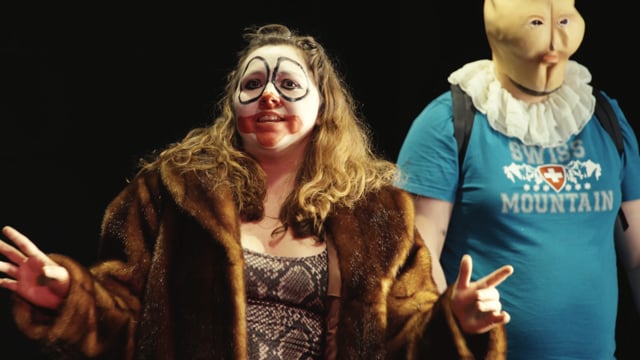 SHOWS
Wednesday, 12. February 2020, 12:00
school performance
Wednesday, 12. February 2020, 9:00
school performance
Tuesday, 11. February 2020, 19:30
Thursday, 28. February 2019, 20:00 Premiere
Friday, 1. March 2019, 20:00
Saturday, 2. March 2019, 20:00
TEAM
concept and performance
Stephan Stock, Wanja van Suntum, Lea Whitcher
theatre pedagogics
Sarah Verny
Production management
Elena Conradt, produktionsDOCK