Laila Soliman & Ruud Gielens – MY BODY BELONGS TO ME
Together with a self-organised group of women, Laila Soliman and Ruud Gielens have created a performance about FGM (female genital mutilation) for the Theaterformen festival. For the last three years women – mostly from Sudan, but now living in Hannover, Braunschweig, Soltau and Wolfsburg – who are FGM survivors or campaigning against FGM with those affected by it have been building a network. It's about fighting FGM, but also about healing processes and dialogue: about dealing with it individually, with their families and in their home country, the legal regulations on FGM as a reason for asylum and the medical care of FGM survivors in Germany. For the first time, the activists, mothers, housewives and working women stand on the stage to celebrate the strength and the beauty of being a woman. And to let us share their fight against FGM, which is closer to us than we think.
In the context of Entangled Histories funded by Kulturstiftung des Bundes.
Funded by Goethe-Institut.
TRAILER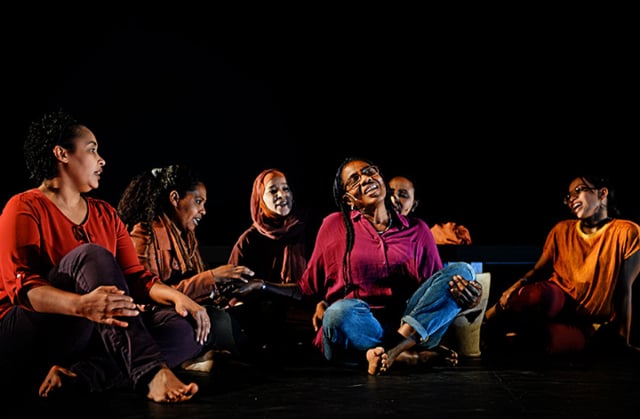 SHOWS
Saturday, 9. May 2020, 20:00
Friday, 8. May 2020, 20:00
Thursday, 7. May 2020, 20:00
Sunday, 3. November 2019, 20:00
TEAM
Direction and Concept
Ruud Gielens, Laila Soliman
With
Nihad Ahmed, Yodit Akbalat, Mona Habib Allah, Nadia Elsayed, Nagat Hamid, Abir Omer
Production management
Swantje Möller
Diffusion/Touring
Franziska Schmidt produktionsDOCK