CapriConnection, Pedro Roth (Estrella del Oriente), Tebbe Schöningh, Anne Jelena Schulte – HOTEL DER IMMIGRANTEN
"Argentina, Argentina – that's where Maradona comes from!"
That is what the German Jewess Johanna heard when she was in Europe for the first time, fifty years after her escape. As popular as Maradona is, the hundreds of thousands of Europeans who found refuge there  in Argentina, from the dictatorships and poverty of the last century , eem forgotten.
The theatre group Capri Connection and the author Anne Jelena Schulte travelled to Argentina to bring back some of these forgotten stories to Europe.
In poetically condensed texts, they tell of Germans, Swiss, Spaniards and Ukrainians who climbed on overcrowded ships to save their lives and found their first accommodation in the asylum "Hotel of the Immigrants" on the Rio de la Plata.
A performer and three musicians from Argentina, Austria and Switzerland lift these stories into a timeless sound space.
In the second part of the evening the stage belongs to the artist Pedro Roth. He also came to Argentina as a youth fleeing the Nazis from Hungary. Since then he has developed utopias for the future, including a whale ship on which people are declared works of art. Thus the journey to any country is open to them if there is only one gallery owner who can issue an invitation…
TRAILER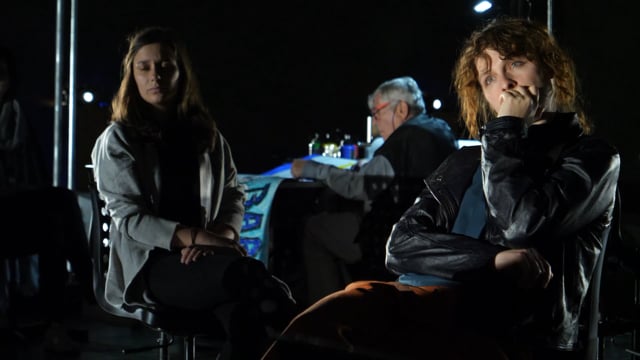 SHOWS
Wednesday, 8. April 2020, 20:00
Tuesday, 7. April 2020, 20:00
Saturday, 13. April 2019, 20:30
Friday, 12. April 2019, 20:30
Saturday, 30. March 2019, 20:00
Friday, 29. March 2019, 20:00
Sunday, 24. March 2019, 18:00
Saturday, 23. March 2019, 20:00
Friday, 22. March 2019, 20:00
Wednesday, 20. March 2019, 20:00
Tuesday, 19. March 2019, 20:00
Sunday, 17. March 2019, 18:00
Saturday, 16. March 2019, 20:00
Thursday, 14. March 2019, 20:00 Premiere
TEAM
Idea, Concept, author
Anne Jelena Schulte
Concept, Regie
Anna-Sophie Mahler
Concept, Performance
Susanne Abelein
Concept, production management
Christiane Dankbar
Concept, Visuals
Tebbe Schöningh
artist
Pedro Roth (Estrella del Oriente)
Musician (accordion)
Jonas Kocher
Musician (trumpet)
Leonel Kaplan
music (Electronics)
Christof Kurzmann
Technical direction, Light
Benny Hauser
BOOKING
Christiane Dankbar