helium x – DAS GROSSE DRAMA
The future announces itself in dramatic, steep upward curves. Homo Sapiens has become the most important influential factor on this planet. The changes are irreversible, the initiated processes are self-reinforcing, the consequences are enormous and at the same time still unforeseeable. The performance collective helium x confronts this highly topical and at the same time over-complex problem situation and in Das grosse Drama confronts the conflict-ridden relationship between man and nature.
Knowing that everything is at stake, the performers enter the stage as supposed representatives of the human species. Time is pressing, motivation is high, the challenges are greater: How can an overview of the facts and history of the relationship crisis between man and nature be drawn up? Which chapters need to be examined? Who is actually subjecting whom? And which "we" is actually speaking?
In just five acts it is necessary to stop the inevitable dramaturgy of destruction. In the midst of backdrops and imaginations, a relentless confrontation with the fatal concepts of world appropriation takes place. In the struggle for visualization and comprehension, in the awareness of one's own imperfection and failure, the glimmer of a better future emerges, so the hope.
TRAILER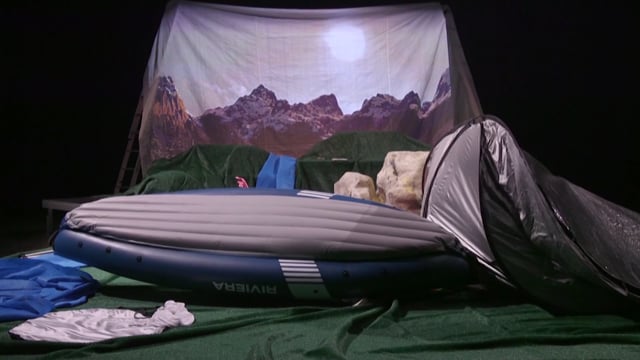 SHOWS
Friday, 29. March 2019, 20:00
Saturday, 30. March 2019, 20:00
Sunday, 31. March 2019, 20:00
Sunday, 10. February 2019, 19:00 Premiere
Monday, 11. February 2019, 20:00
Tuesday, 12. February 2019, 20:00
Wednesday, 13. February 2019, 20:00
Thursday, 14. February 2019, 20:00
TEAM
Concept & performance
Patrick Oes, Philippe Heule, Elina Wunderle, Daniela Ruocco, Friederike Falk
scenography
Dominik Dober, Laura Knüsel, Léonie Süess
light design & technical direction
Thomi Kohler
outside eye
Beatrice Fleischlin
production
Christiane Dankbar
LINKS
BOOKING
Christiane Dankbar